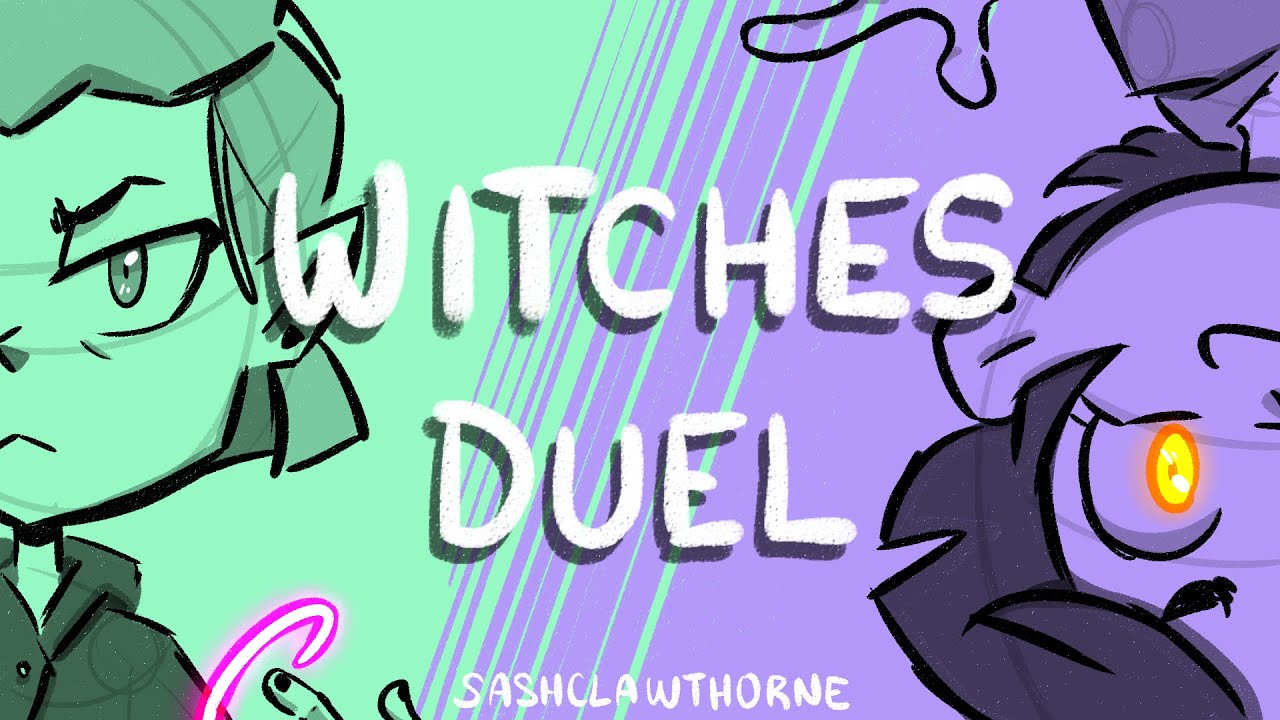 Lilith-"beloved citizens,the emperors coven proudly presents,spicier than cinnamon"
Emperors Coven-"the kind of witch that eda resents"
Lilith-"and the kind of witch we seek each year,she's sure to make you gasp tonight,weighing in at… I don't know introducing Amity Blight!"
[Applause]
Luz-"wait, the duel is a rap battle?!
Eda-"of course it is! this is contemporary musical theatre what did you expect?
Luz-"um, I don't know… magic?!
Eda-"hip hop is magic, Luz.
Amity-"just 'cause my name is amity doesn't mean i'm a friend,facing the star student will be Luz Noceda's end,opponent- yes, but worthy- no but we can play pretend,you're tragic, have no magic and on eda you depend, you're human, so i'm assuming you're fragile I'll take some pity on ya,still my flow can be agile i'm sittin' pretty, but i'm witty and you're standing there baffled in the dark, you need a flashlight get ready for a blight fight, first time i saw you,you were an abomination i have to say… you looked better covered in purple foundation get out my station return to your troubled nation i've been goin' for a while is there no moderation?"
Luz-"Eda! what do I do? Idon't know how to rap"
Eda-"don't worry about it Luz I'll take care of it,you just say something"
Luz-"something like what?"
Eda-"anything here,watch"
Luz-"uh… … that was cute but now it's time to get stunning by the third stanza guaranteed to have you running hunny,are you aware you up against the best? you wish you were a star you just wear one on your chest,test… one,two,three, can you hear me? i'm sure the isles are only boiling cause luz came through the door,you remind me of the stories i've read you know the lore 'bout the monsters in the swamp go on try it…"womp womp" aye…you look shocked! did I surprise the top student? you're a bully, insecure sure you're pretty but not prudent maybe you shoulda warmed up you sound like hoots you can't touch this you need to touch up your roots…"
Lilith-"your turn,Amity
Amity-"uh… I don't know what to say"
Luz-"that was so mean! i didn't meam to say that! I don't know why i said that! how did i say that?"
Eda-"i told you hip hop was magic!.. it was me, just keep going!
Luz-"this was supposed to be a duel but it seems i'm spittin' solo your soft in the center maybe i should call you rolo you're not a savage you're stuffy buttoned up like a polo,enough of all the modesty in slow-mo let's go… Look, i'm singing circles around you while you can't find the pitch,think you were projecting on willow, you called her half-a-witch,stitch up your wounds cause your salt's gonna burn, i'm the teacher,ms.blight,it's time to learn… Aye, I love your confusion it compliments this conclusion your cockiness is illusion elitist, stuck in delusion you're overzealous, and jealous lookin' green like your blouse this was fair but foul forget the owl this is my house!.."
Emperors Coven-"you lose…you lose…you lose…you lose…amity you lose."
traducción

Lilith: "amados ciudadanos, el aquelarre del emperador presenta con orgullo, más picante que la canela"
Aquelarre del Emperador: "el tipo de bruja que resiente a Eda"
Lilith: "y el tipo de bruja que buscamos cada año, seguramente te dejará boquiabierto esta noche, con un peso en… ¡No sé, te presento a Amity Blight!"
[Aplausos]
Luz-"espera, el duelo es una batalla de rap?!
Eda- "¡claro que lo es! esto es teatro musical contemporáneo ¿qué esperabas?
Luz-"um, no sé… ¿magia?!
Eda-"El hip hop es magia, Luz.
Amity-"Solo porque mi nombre es Amity no significa que sea un amigo, enfrentar al estudiante estrella será el final de Luz Noceda, oponente- sí, pero digno- no, pero podemos jugar a fingir, eres trágico, tienes no hay magia y dependes de eda, eres humano, así que asumo que eres frágil Me apiadaré un poco de ti, aún así mi flujo puede ser ágil Estoy sentado bonito, pero soy ingenioso y estás parado allí desconcertado en la oscuridad, necesitas una linterna prepárate para una pelea contra la plaga, la primera vez que te vi, eras una abominación, tengo que decir… te veías mejor cubierta con una base morada sal de mi estación regresa a tu nación en problemas a la que he estado yendo por un tiempo, ¿no hay moderación?
Luz-"Eda! ¿Qué debo hacer? no sé rapear"
Eda- "no te preocupes por eso Luz yo me encargo, solo di algo"
Luz-"algo como que?"
Eda-"cualquier cosa aquí, mira"
Luz-"uh… … eso fue lindo, pero ahora es el momento de volverse deslumbrante en la tercera estrofa garantizada para que corras cariño, ¿eres consciente de que te enfrentas a los mejores? Desearías ser una estrella solo usas una en tu pecho, prueba… uno, dos, tres, ¿puedes oírme? Estoy seguro de que las islas solo están hirviendo porque luz entró por la puerta, me recuerdas las historias que he leído, conoces la tradición sobre los monstruos en el pantano, continúa, inténtalo … "womp womp" sí … miras ¡conmocionado! ¿Sorprendí al mejor estudiante? eres un matón, inseguro seguro eres bonito pero no prudente tal vez deberías haberte calentado suenas como un ululato no puedes tocar esto necesitas retocar tus raíces…"
Lilith-"tu turno, Amity"
Amity-"uh… no sé que decir"
Luz-"¡Eso fue tan malo! ¡No quise decir eso! ¡No sé por qué dije eso! ¿Cómo dije eso?
Eda: "¡Te dije que el hip hop era mágico! ¡Fui yo, solo sigue adelante!
Luz: "Se suponía que esto era un duelo, pero parece que estoy escupiendo solo, eres suave en el centro, tal vez debería llamarte rolo, no eres un salvaje, estás tapado como un polo, basta de todo el modestia en cámara lenta vamos… Mira, estoy cantando círculos a tu alrededor mientras no puedes encontrar el tono, creo que estabas proyectando en sauce, la llamaste media bruja, cose tus heridas porque tu sal va a Burn, soy la maestra, Sra. Blight, es hora de aprender… Sí, me encanta tu confusión, complementa esta conclusión. Tu arrogancia es una ilusión elitista, atrapada en la ilusión. fue justo pero asqueroso olvidate de la lechuza esta es mi casa!.."
Aquelarre del Emperador: "pierdes… pierdes… pierdes… pierdes… amistad, pierdes".
(xdd me tardé unas
2:00 para organizar los subtítulos do youtube )